Lechuguinos has published political disinformation and harassed journalists for years, remaining under the radar of the authorities. It is managed by someone known to many chavista personalities.
IMPORTANT NOTE:
This research is based on information available in open sources, which can be accessed by any interested party. All available information was backed up in order to preserve the evidence indicated in this report, in case of suspension or blocking of some of the mentioned social media accounts or websites. If it is necessary to publish any additional evidence, in the form of a screenshot, file or link, it will be added to the same information and the update will be declared at the end of the investigation.

The Spanish version of this report was originally published on October 10, 2021.
Lechuguinos is the name of the Venezuelan website, run by anonymous creators, whose content is strongly aligned with the narratives of the regime led by Nicolás Maduro. Its name is a reference to the quarrels that have existed for years among members of the Venezuelan opposition, a word chosen almost ten years ago, by a Venezuelan political leader, to disqualify the leaders of another opposition party.
For years, the website has been dedicated to precisely that: to sow discord, disqualify and try to harm people and organizations that are enemies of the Venezuelan regime, not only political, but also journalists, media and NGOs, by creating toxic content, entirely propagandistic and with a marked tendency to fabricate or amplify disinformation and hate narratives.
It has been the website with the highest number of articles debunked by Cazadores de Fake News during its two years of existence. No other website, even among those with an editorial line in favor of the Venezuelan regime, has generated such a large amount of "fake news". Its Twitter account @Lechuguinos_com, from which it occasionally threatened and intimidated politicians, journalists and media, was suspended on October 8, 2021, two days before the publication of the Spanish version of this report and after hundreds of reports from Twitter users, checks of false or misleading information generated by the website and even articles and official reports on the case, generated by organizations that watch over freedom of expression, freedom of the press and hate speech in Venezuela.
Chapter 1. What is Lechuguinos?
On November 12, 2019, Senator Jeanine Añez assumed the presidency of Bolivia, being endorsed by the country's constitutional court but generating questions about her legitimacy, in other sectors. A few hours later, hundreds of accounts began sharing on Twitter a pornographic video, allegedly leaked, of the new president.
@Lechuguinos_com, a Venezuelan website with a long history of fabricated political disinformation, posted one of the first tweets that were shared on the social network with the video, making it popular and surpassing 18,000 views in less than a day. But the scandalous leak was a hoax, a "fake news" that was deliberately designed and spread to dent Añez's credibility and reputation. The video had been posted on several pages where adult content is shared, at least since 2017. It possibly originated in Brazil, not Bolivia. [Fact-check].
Several websites reviewed the alleged leak since November 13, 2019, when no one had yet confirmed that it was a hoax. Some of them identified the tweet posted by @Lechuguinos_com, or accounts that quoted it, as the source of the information on Twitter. Other users also shared the video, although Twitter deleted several tweets containing it. The tweet including the video posted by @Lechuguinos_com, however, remained online until October 8, 2021, the day the @Lechuguinos_com account was suspended. It had surpassed 202,000 views and 3,000 retweets:
This is not the first time that Lechuguinos has been involved in distorting news, spreading toxic propaganda, rumors or political disinformation. The website is not, nor has it ever pretended to be, an impartial or objective media, but neither is it a comedy or satirical outlet: its content is aimed at undermining the credibility or affecting the reputation of actors, organizations or media adverse to the Venezuelan regime (domestic and foreign) or is simply propaganda aligned with the narratives of the Bolivarian revolution and its leaders.
In addition to Jeanine Añez, some of the international leaders who have appeared in articles published by the Lechuguinos website are the presidents Iván Duque (Colombia), Sebastián Piñera (Chile), Joe Biden (United Estates), Donald Trump (former president of the United States), Michelle Bachelet (former President of Chile and United Nations High Commissioner for Human Rights) y Luis Almagro (former foreign minister of Uruguay and secretary-general of the Organization of American States, OAS).
More recently, the Twitter account @Lechuguinos_com has been involved in promoting hashtags in favor of Alex Saab's release, publishing articles against Ulises Correia, Prime Minister of Cape Verde, the African island country where the Colombian businessman is being held:
Lechuguinos is, without a doubt, the website that has generated or driven the largest amount of political disinformation in Venezuela, at least since 2019, when the Cazadores de Fake News community was created and other verification initiatives emerged in the country.
On September 17, 2019, Cazadores de Fake News published an exploratory article debunking several hoaxes published during the same month and describing the type of content generated by Lechuguinos as: false, misleading and manipulated information, rumor spreading and propaganda aligned with the discourse of chavismo in Venezuela. Much of the content generated by the website consists of accusations of corruption made against Venezuelan politicians and opposition parties, reviews of fractures or disagreements between opposition groups and distortions of self-criticism made by opponents of the regime of Venezuela, aimed at deepening the divisions among Venezuelan opposition readers or highlighting the inconsistencies of the opposition among Chavista readers.
Although the content generated by the website has a limited reach in social networks and is generally rejected by communities opposed to the Venezuelan government, it is usually shared in Facebook groups and pages and in communities of pro-Maduro government users on Twitter, occasionally being disseminated on social networks and WhatsApp, on a massive scale.
An available list summarizes the fact-checks made by several sources to some hoaxes published by the Lechuguinos website.
Lechuguinos has published articles with false, misleading or manipulated information involving a large number of Venezuelan journalists and media and its informative work has also been criminalized through articles published on the website and disseminated on Twitter through the account @Lechuguinos_com.
The Twitter account has been involved in harassment campaigns and threats against Venezuelan and foreign journalists. Several organizations and journalists have published reports and complaints about harassment campaigns promoted by Lechuguinos, among them: Luis Carlos Díaz , Ibéyise Pacheco , Luis Olavarrieta , Marianela Balbi (executive director of IPYS-Venezuela), Luis Borjas of Noti-Tarde, Erika Hernández of El Nacional, Norbey Marín of the YouTube channel Hasta que Caiga la Tiranía, photographer Donaldo Barros and Esther Yáñez , Spanish correspondent for several media outlets. @Lechuguinos_com has also harassed members of NGOs such as Foro Penal and FundaRedes.
In the chapter on Venezuela of the report "Freedom of the Net 2021" published by Freedom House, Lechuguinos is mentioned as a platform from which journalists are harassed and defamed: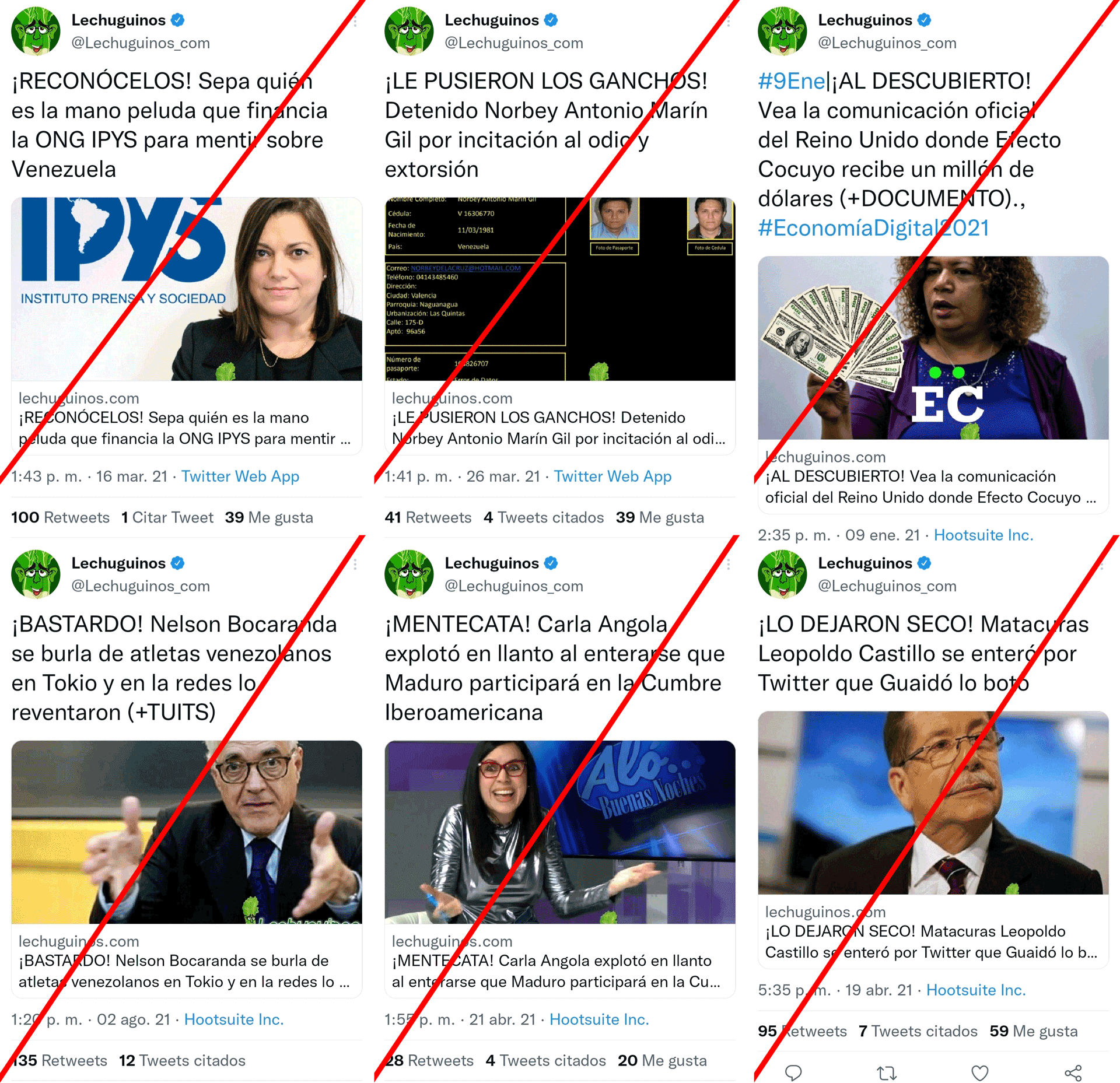 More recently, the Twitter account @Lechuguinos_com has participated in Twitter trend positioning campaigns in favor of the release of Alex Saab, a Colombian businessman detained in Cape Verde, and in an intense campaign of harassment and selective harassment against journalist Roberto Deniz. Through the website Armando.Info, of which Deniz is a member, multiple investigative works on Alex Saab have been published, in which he is involved in alleged corruption and money laundering schemes. Alex Saab is accused by the Venezuelan opposition of being Nicolás Maduro's main "front man".
The Twitter harassment campaign against Deniz, does not come exclusively from @Lechuguinos_com, but from multiple accounts that are part of a massive influence operation, which has been documented by Cazadores de Fake News since August 2020. This PR operation in favor of Saab aims to discredit sources covering the Alex Saab case, such as Armando.info, and to dehumanize journalists like Deniz by accusing him, among other things, of creating "fake news" about the case, or of having been "paid by the CIA", without showing evidence.
A list of tweets published by @Lechuguinos_com about Roberto Deniz is available here (does not include repeated tweets).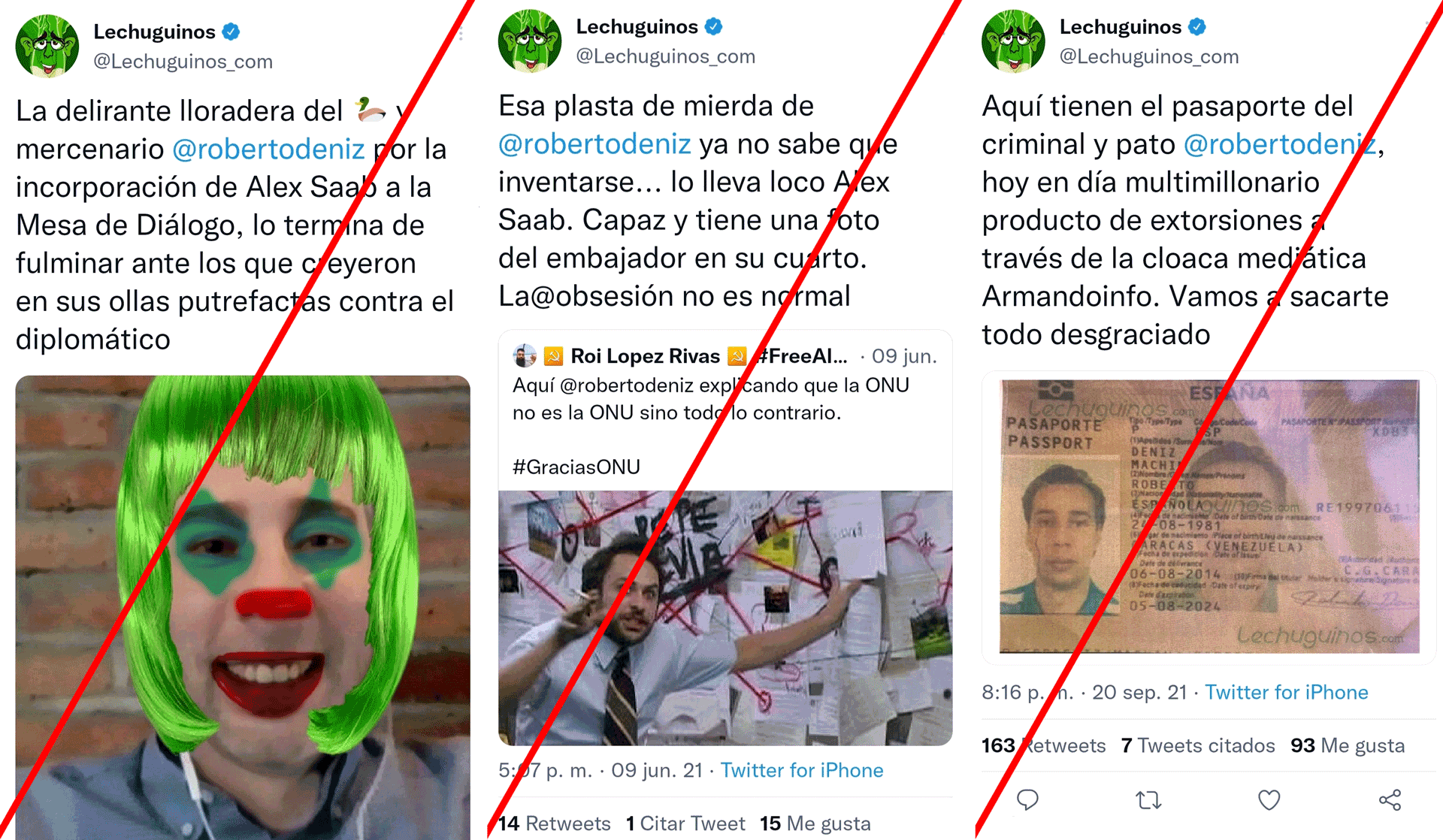 The first article on the website and the first tweet from @Lechuguinos_com were published on August 1, 2016, almost 5 years after the account was created on December 30, 2011.
On March 19, 2020, it was shown in an article by Cazadores de Fake News, that the Twitter account @Lechuguinos_com has at least 70,000 followers that are fake or were accumulated by one or more previous owners, who generated content other than the current one. This amount represents 58% of the total number of followers the account had at the beginning of October 2021 (120,000 followers). This led us to conclude that @Lechuguinos_com is likely an account purchased or ceded by a previous owner, an action explicitly prohibited in Twitter's spam and platform manipulation policy.
Chapter 2. Who is behind Lechuguinos?
Lechuguinos.com had operated until this moment as an anonymous website. For several years it has generated content without declaring any person as responsible, neither on the website nor on its social networks. This section presents chronologically the procedure used by Cazadores de Fake News to determine the identity of who runs the website, so far known by few people.
---
January 5, 2021 was the day of the installation of the Venezuelan National Assembly, preceded by the controversial legislative elections of December 6, 2020. It was the symbolic return of chavismo to the hemicycle of the Federal Legislative Palace, after a five-year term that began in 2015, in which the opposition enjoyed a parliamentary majority.
Around 10:25 A.M. that day, the elected deputies entered the Federal Legislative Palace. M. of that day, the elected deputies entered the Federal Legislative Palace. A live video stream was made through the @Lechuguinos_com account on Instagram, before and during the entrance of the legislators to the building. This video file has been deleted from the social network, but is backed up in its entirety in this link.
Forty seconds into the transmission, the man who was streaming live greeted Llafrancis Colina, host of the TV program "Zurda Konducta", broadcast by VTV and the radio show "Las Brujas", broadcast by Radio Nacional de Venezuela (RNV), and Fabiana Valera (whom he calls "La Gocha"), also from "Las Brujas". Both VTV television channel and RNV radio station are Venezuelan state-owned media. We found NO evidence that Colina or Valera are part of the Lechuguinos team.
At 6:00 minutes after the beginning of the transmission, the three people entered the hemicycle. Colina exchanged a couple of sentences with the person who made them pass through some rooms to access the balcony of the hemicycle. "I thought Luis Hugas was going to receive me today," said Colina. Seconds later, the man who was through Instagram commented, anecdotally: "Dude, how I pushed that intrigue through Lechuguinos! …".
An involuntary confirmation of both its link with Lechuguinos and the scope of the content published by the website: intrigues, mainly of a political nature:
On February 20, 2021, a live concert was held in the Plaza Diego Ibarra in Caracas, calling for the release of Alex Saab. The event was called "No Más Bloqueo" ("No More Blockade") or "FreeAlexSaab", was attended by singer Omar Acedo and several hosts of the VTV TV show Zurda Konducta. The Instagram account @Lechuguinos_com live streamed the presentation of the event, which was in charge of Pedro Carvajalino, host of Zurda Konducta.
The night before, on February 19 at 08:24 P. M., @Lechuguinos_com had live streamed on Instagram the process of setting up the stage for the concert. The video is online at the Instagram account @Lechuguinos_com and can be accessed through this link [Backup].
That night, who managed the Instagram account @Lechuguinos_com coincided with other presenters of the program Zurda Konducta:
Carlos Pacheco, Congressman 2021-2026, wearing a blue sweater with the Zurda Konducta logo and a red mask.
Oswaldo Rivero, (nicknamed "Cabeza de Mango"), with red sweater
Pedro Carvajalino, with cap and black chemise.
A fourth unknown man, wearing a mask and white sweater.
The same night at 09:52 PM, Carlos Pacheco posted a photo on his Instagram account @yosoypachecozk. It showed three Zurda Konducta drivers (Carvajalino, Rivero and Pacheco), the man in the white sweater and a fifth person. At the time we presumed he was the one who managed Lechuguinos' Instagram account:
We got NO evidence that any of the hosts of Zurda Konducta, or the man in the white sweater, are related to Lechuguinos website.
Comparing the two videos published through the Instagram account @Lechuguinos_com on January 5, 2021 and February 19, 2021, we observe coincidences, although not conclusive:
In both videos, the person doing the streaming mentions the nickname "La Gocha", referring to Fabiana Valera.
In both videos a man with a similar face, hair and voice is recording, although in the January video his mouth is covered with a mask:
An attempt was made to identify the man in the photo posted by Carlos Pacheco on Instagram. His face was isolated in the photograph and a reverse search was conducted on PimEyes.com.
We found a set of possible matches, which we cut out and used to do several consecutive reverse searches, alternating between PimEyes.com, Google Images and Yandex Images. One of these searches led us to the Aporrea.org profile of a Venezuelan named Lenin Dávila Guerrero: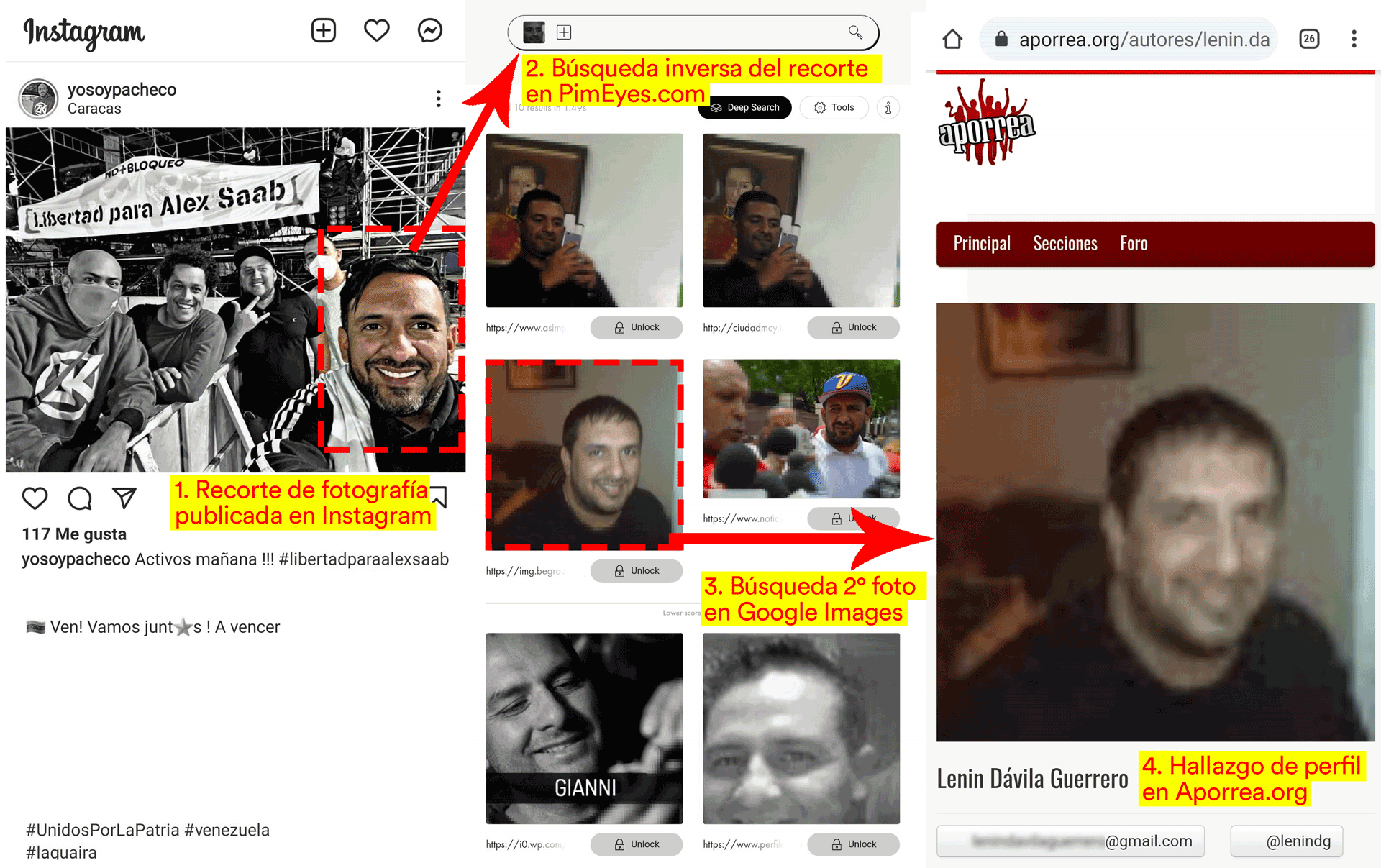 On June 29, 2019, the website Lechuguinos was awarded the Aníbal Nazoa National Journalism Award, given by the Movimiento Periodismo Necesario, as "Colectivo de Tuiteros" (Twitter collective). There is evidence of this in several articles available, although in no case do they mention Lenin Dávila. But it was Dávila himself who, on September 12, 2019, posted a photo on his Instagram account (public) receiving the award and definitively confirming that he is the one who runs Lechuguinos: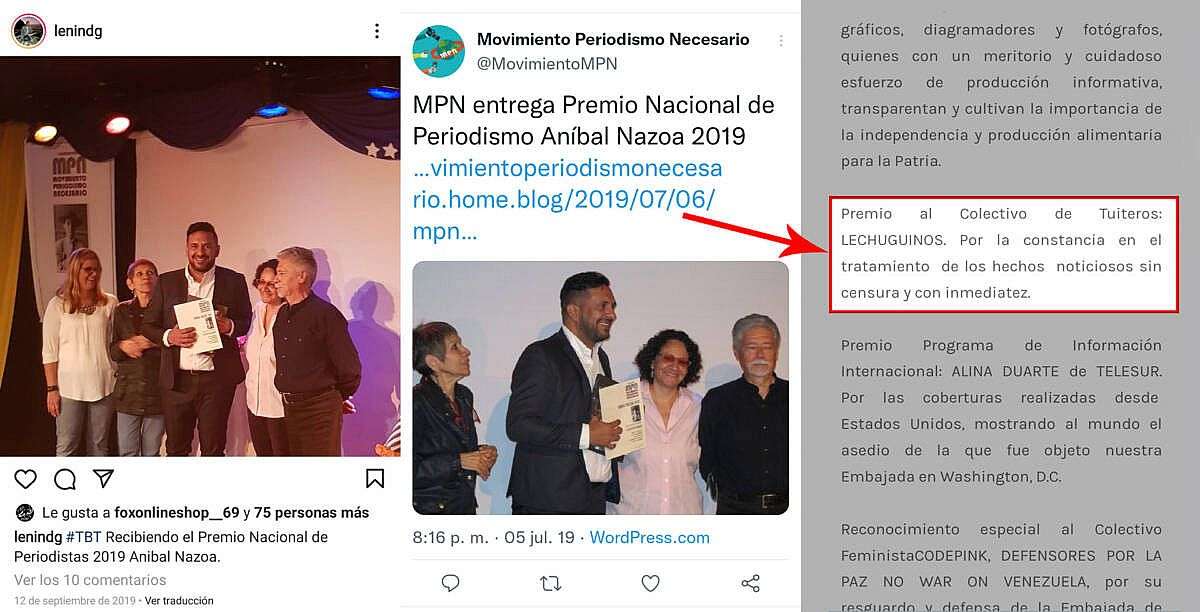 According to an interview with Dávila published in March 2012, he was director of Radio Emisora Pequiven and was part of the communications team in the Youth of the Movimiento Quinta República (MVR). In 2014, he wrote in a blog called Bolivariano Digital News. Around 2015, he was part of the production team of the program "Hablando de Poder", hosted by Francisco Ameliach, by then governor of Carabobo, from whom he also received the Orden Sol de Carabobo, in 2017.
More recently, Dávila has recorded audiovisual content, in many cases using video drones. On May 8, 2021, the Instagram account @Lechuguinos_com published a photo in which it announced the publication of a video, in the context of the promotion of the hashtag #FuerzaColombia. At the top of the image, the logos of the Youth of the United Socialist Party of Venezuela (JPSUV), the newspaper Cuatro F and Lechuguinos appear. Video drones were used for the recording: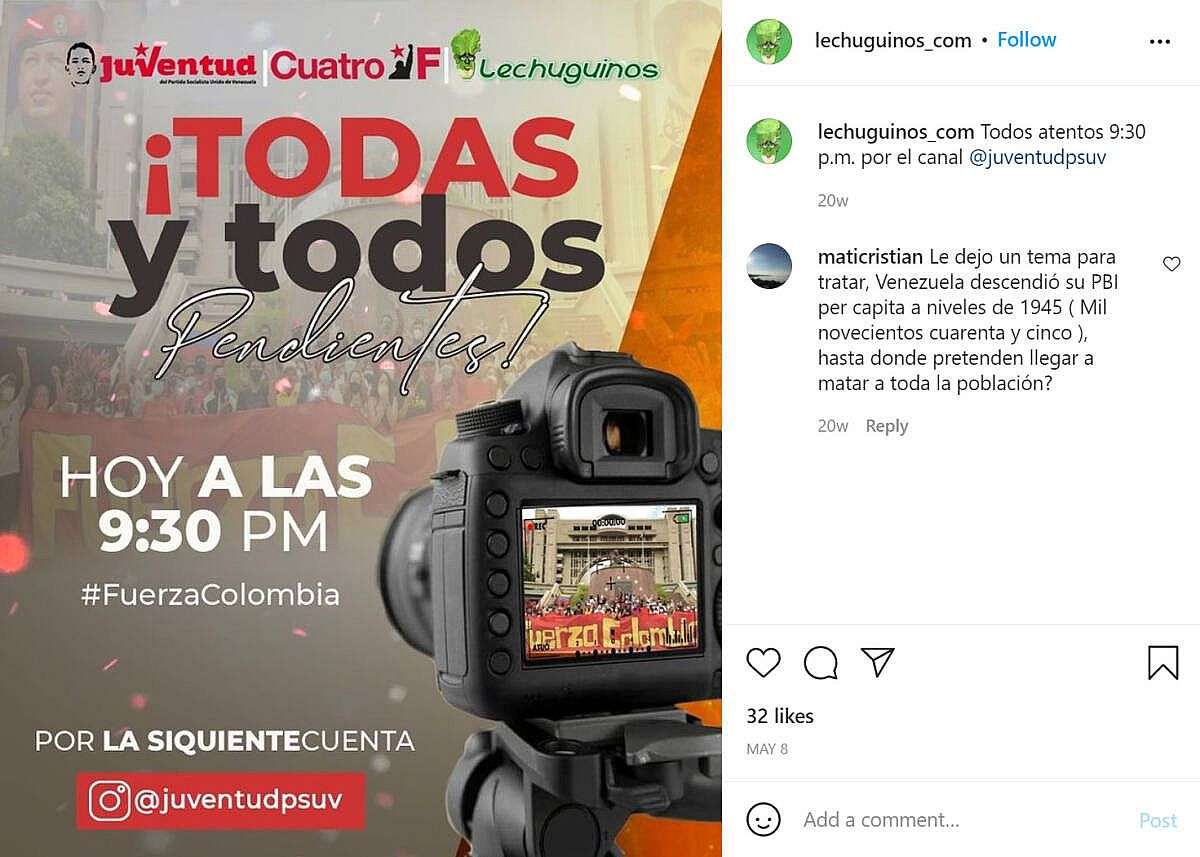 May 8 was the last time the name @Lechuguinos_com appears directly associated with political propaganda. Dávila used video drones to record other audiovisuals for the JPSUV during the month of May 2021, but in the JPSUV account @Lechuguinos_com does not appear as a collaborator, but Dávila's instagram account is directly mentioned: In a video published on May 13 (recorded in Guaraira Repano), in another one on May 17 (recorded in Fortín Solano in Puerto Cabello) and in another one dated May 23 (recorded in General Rafael Urdaneta bridge, Zulia state):
Dávila and the website Lechuguinos, in addition to being close to members of the Zurda Konducta TV show and influencers who participate in the social media campaign in favor of Alex Saab (and against Roberto Deniz), is also close to many other politicians and candidates of the United Socialist Party of Venezuela (PSUV), according to his Instagram account.
He worked with Rafael Lacava in the campaign for the governorship of Carabobo in 2017. Lacava was proclaimed as candidate for governor of the state on August 12, 2017, and on October 15 he won against the candidate of Voluntad Popular (opposition), Alejandro Feo La Cruz. In the period between August and October 2017, the website Lechuguinos published ten articles related to the candidates in the electoral race: two (favorable) articles on Rafael Lacava and eight articles on Feo La Cruz, with titles such as "HE IS UNSCRUPULOUS! Find out how Alejandro Feo La Cruz is campaigning on the backs of those killed in the guarimba (barricades)".
The information is transcribed and supported in this spreadsheet.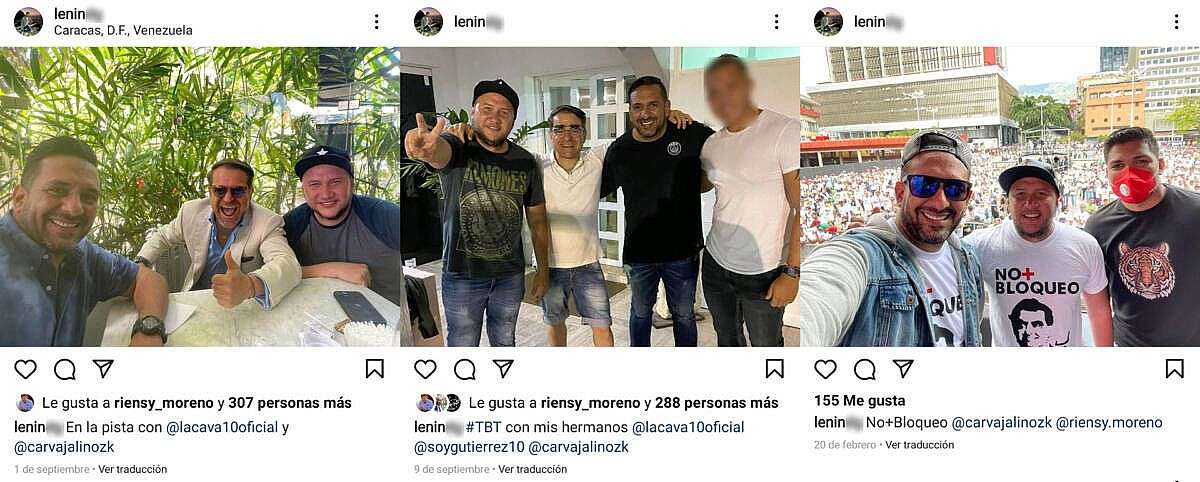 Chapter 3. On disinformation in Venezuela and who disseminates it
For many years, the governments of Venezuela, Cuba and other Latin American countries that are part of the Bolivarian Alliance for the Peoples of Our America – Peoples' Trade Agreement (ALBA-TCP), have denounced having been victims of "imperial disinformation campaigns carried out through media corporations and social networks that spread hatred and destabilization against the peoples".
On July 16, a "Single Front against Disinformation" was formed, with the aim of "dismantling media campaigns" to defend the interests "of the peoples". But a "Front" created by the governments that are part of ALBA-TCP, may inevitably end up defending in a biased way their own interests and ignoring the disinformation that is being generated from their own side.
For example, in the article "#SOSCuba: X-ray of a digital protest driven by humans", through data analysis, we demonstrated that the #SOSCuba trend promoted on July 10 and 11, 2021 was not driven by "thousands of bot accounts" created by the United States as part of an "imperial attack", as state media or those linked to the ALBA-TCP countries claimed. Instead, it was a trend generated mainly by real Cuban accounts that were activated from inside Cuba, although a minority of anomalous accounts were present.
The above tweet was posted by Tania Diaz, a deputy of the Venezuelan National Assembly who took office on January 5, 2021, from whose installation she live streamed, precisely, the Venezuelan "fake news" website Lechuguinos. Diaz has given seminars against "fake news against Venezuela", sharing the same point of view with other leaders and countries that are part of the ALBA-TCP, but also shared tweets with content published by @Lechuguinos_com or retweeted content generated by the page. Many pro-Chávez actors retweet the @Lechuguinos_com account not necessarily to share disinformation or grievances against journalists, but rather to support pro-government narratives and possibly ignoring the website's long history of disinformation.
Other leaders and journalists belonging to public media controlled by the Venezuelan state, influencer accounts that amplify content in defense of Alex Saab and Nicolás Maduro himself have also retweeted the @Lechuguinos_com account. Much of this content is disinformation fabricated by Lechuguinos, but in other cases, it comes from other sources and is simply amplified by the portal. In most cases, it consists of purely propagandistic content:
It is important to remember the existing closeness between Lenin Dávila and hosts of the TV show Zurda Konducta (documented in photos and videos), Chavista politicians and influencers participating in the campaign in favor of Alex Saab in Social Networks, in which Lechuguinos has also participated. This is one of the reasons why Pedro Carvajalino, host of Zurda Konducta and who is also part of the same campaign, has retweeted so much content from Lechuguinos. The anonymous account @JFJusticiafuser, which is also linked to Alex Saab's coordinated amplification network, and is the second case with the most retweets to Lechuguinos' Twitter account.
Other accounts, such as those of Nicolás Maduro, Delcy Rodríguez and Tania Díaz, have retweeted @Lechuguinos_com on many less occasions, always amplifying propaganda or disinformation content generated by the government. Although there are few tweets amplified recently, it is necessary to understand the differences in the reach of each account, comparing the number of followers they have: Carvajalino has only 60,100 followers, Rodríguez has 572,100 followers and Maduro has 3,975,000 potential followers.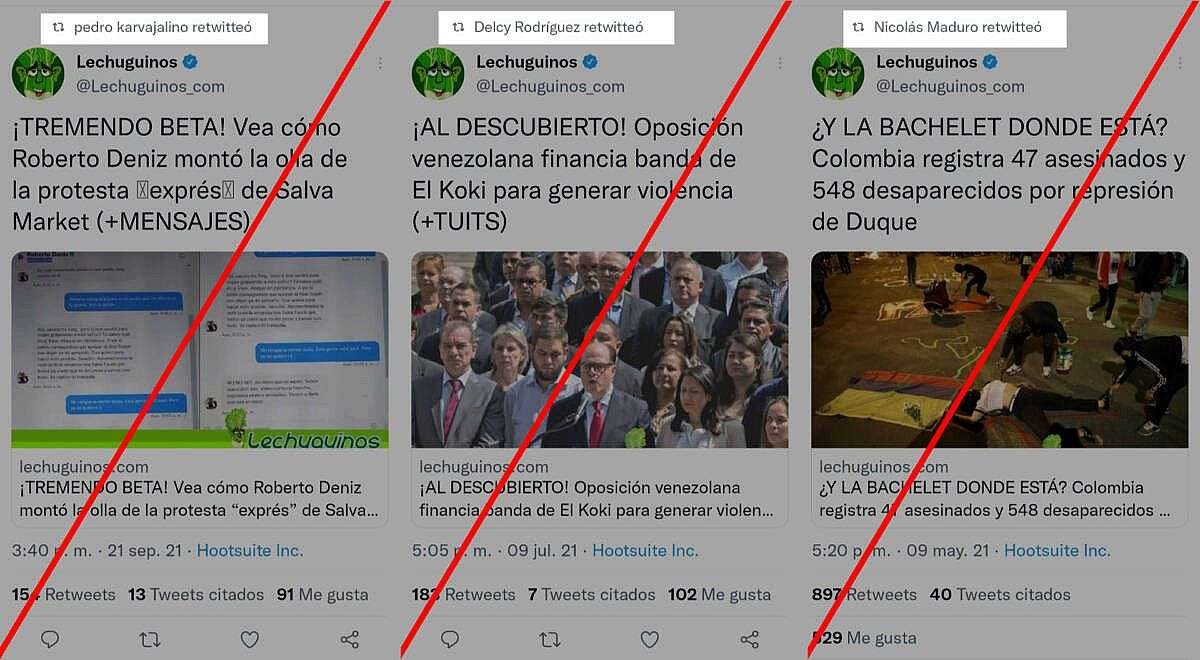 On May 6, 2021, Tarek William Saab, Attorney General of Venezuela, informed on Twitter that he had submitted to the International Criminal Court (ICC) a document in which he stated an alleged fraudulent use of Social Networks in Venezuela, "through bots that launch millions of false messages" about the country, whose purpose would have been to generate adverse trends against the Venezuelan State:
But the information submitted to the ICC by Saab ignores some important facts about the ecosystem of disinformation and propaganda that reigns in social networks in Venezuela and that have been exhaustively studied for several years: the creation of bots accounts, trolls and coordinated campaigns to harass and intimidate journalists, NGOs and defend security bodies of the Venezuelan regime, or as part of the operation of influence in favor of Alex Saab in social networks, the existence of thousands of accounts of real people who have bot-like behavior (cyborg accounts), that receive payment through the Patria System, belonging to the Venezuelan State, and the activity of portals such as Lechuguinos, which has systematically generated disinformation and harassed members of NGOs, journalists and Venezuelan media.
Despite the multiple complaints against the website Lechuguinos and its Twitter account, so far there has been no conclusive action by the Venezuelan justice system in favor of those who have denounced the portal's activity. On the contrary, the content generated by the anonymous portal has been used by a large number of pro-government actors to promote their own narratives, even if it is disinformation or content that seeks to generate hatred against journalists, NGOs and opposition politicians.
Lenin Dávila may be unknown to most of the opposition public, but his identity is relatively well known to Chavista leaders, journalists and communicators. Therefore, despite its apparent intention to combat disinformation in Venezuela, Chavismo seems destined to tolerate the existence of portals such as Lechuguinos, as long as the disinformation and hatred they generate are directed against their enemies.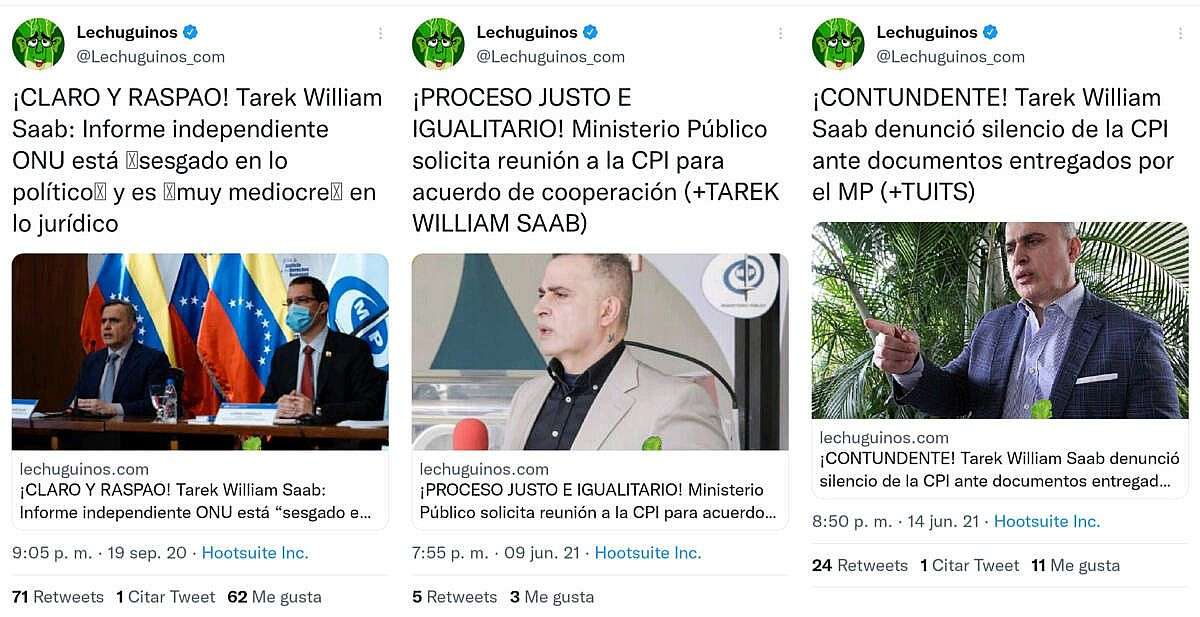 ---
Update October 09, 2021: The Twitter account @Lechuguinos_com was suspended yesterday, October 8, 2021 by Twitter.
Cazadores de Fake News investiga a detalle cada caso, mediante la búsqueda y el hallazgo de evidencias forenses digitales en fuentes abiertas. En algunos casos, se usan datos no disponibles en fuentes abiertas con el objetivo de reorientar las investigaciones o recolectar más evidencias.